Since the beginning of 2012, we offered a fire protection joinery system, which is used in public utility buildings and residential buildings.
In order to make a fire-proof joinery we had to obtain a valid Certificate of Conformity of out products with the Technical Approval. We passed the certification audit conducted at our company. So, our products are categorised as "B" construction, indicating that they are safe.
Our fire protection construction is designed to provide protection against fire and smoke, thus enabling people to evacuate the building safely in the event of any fire hazard.
Promost has obtained the Certificate of Conformity ITB-2104W, which enables legal and safe production of ALUPROF MB-78EI system fire doors according to the Technical Approval (AT-15-6006/2012).

According to the latest research studies, people in the vicinity of a fire are most at risk from smoke and toxic gases. Over 90% of all victims of building fires die from gas poisoning. In addition, material losses due to smoke must be taken into account.
If a gravitational smoke-and heat-extraction system is installed, in the event of a fire smoke extraction vents in façades or building roof are opened by means of electric drives. Poisonous gases, smoke and hot air escape through these openings, so that escape routes actually do their job in offering comprehensive fire protection in buildings.
The system is triggered by means of a smoke detector, a smoke switch or external triggering units. The whole system is managed by the central office.
Moreover, electrically controlled smoke and heat extraction units can be used for daily, natural ventilation of rooms.
Schüco RWA – Smoke and heat control systems
Starting from September 2005, only smoke and heat control systems tested in line with EN 12101-2 may be used in buildings.
Schüco RWA systems have been tested and classified according to EN 12101-2 for various and adequate applications in façades and skylights. They provide an optimum level of safety when in design and operation, as well as effective protection for people and property.
These systems can be used for daily ventilation as well as building air conditioning.
Tested in line with EN 12101-2
Used as: hole windows, in window strips and in mullion and transom structures
Harmonious design with concealed fittings
Large opening cross-sections: smoke and heat propagation control function – up to 800 mm, ventilation function – up to 300 mm
Extra application for daytime ventilation and night-time chilling
Integrated jamming (cutting) protection up to Protection Class 4 (TÜV certificate)
Easy mounting: no profile milling required
Compliance with all the standard requirements, such as water-sealing, acoustic or heat protection
Quality,
tradition, trust.
JEZIERSKI products stand for technologically advanced materials, modern production process and invaluable staff experience. The key ingredient of the JEZIERSKI brand are our business partners, who provide advice and assistance over a wide range of architectural projects: from standard to highly complex. We are happy to receive feedback regarding our services at our retail outlets in order to optimally adapt to the requirements of our customers.
There is no need to compromise when it comes to insulating your own home. Our windows guarantee the highest energy efficiency, thus ensuring lower heating costs.
Properties,
provided by our windows
What properties should ideal windows have? Find out more about the energy efficiency, safety, design and comfort of our windows and other products.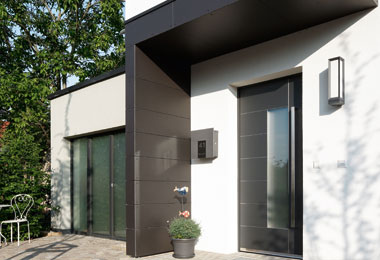 Safety, regardless
of the situation
Many intrusions can be prevented by following a policy and using appropriate security measures. Thanks to our windows and entrance doors, you can virtually eliminate the risk of burglary.