Facade system
and windows
Facade systems are used to construct glazed facades of buildings such as banks, hotels, offices, office buildings, car showrooms, sports halls, etc. They are also used to construct many other spatial and roof glazing structures to provide adequate lighting for building interiors and create appropriate atmospheric conditions for users. They are an excellent tool for shaping contemporary architecture and implementing cutting-edge design visions. Façade windows are suitable for a variety of architectural concepts.
Individual design solutions are also possible, i.e. systems developed according to strictly-defined criteria in cooperation with building designers. Façade windows can be made to fulfil unusual, project-specific requirements in terms of aesthetics and technical specifications.

The most diverse façade solutions are based on the MB-SR50 mullion and transom wall system. Their selection is based not only on the thermal insulation requirements for an individual structure, but also on aesthetic expectations. The MB-SR50 system facilitates constructions with a variety of external characteristics: apart from the basic version, there are other options such as: the so-called vertical or horizontal line (MB-SR50PL), "semi-structural" facade (MB-SR50 EFEKT), "Industrial" version or the overlay system (MB-SR50A), used on a load-bearing construction made of wood or steel profiles.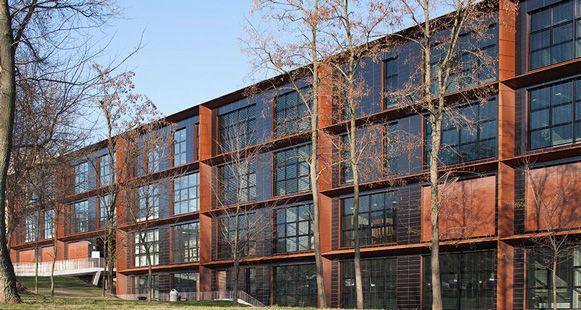 Schüco mullion-transom facades
The family of Schüco facade systems offers an exceptionally wide range of mullion and transom structures for a wide variety of architectural concepts. The projected solutions based on the widely renown Schüco FW 50+ and FW 60+ systems guarantee maximum flexibility in terms of energy, safety, automation and design.
The FA50N system of aluminium profiles is designed for making modern curtain walls with plain and complex shapes (turns, bends). It also allows the construction of glazed roofs, skylights and spatial structures. The supporting structure of such a curtain wall consists of vertical (mullions) and horizontal (transoms) profiles with a box section and a standard width of 50 mm. Within its supporting structure it is possible to apply various types of fillings such as: single and composite panes, polycarbonate panels, facade panels made of composite materials and others. The thickness of such a filling is up to 48 mm.
Quality,
tradition, trust.
JEZIERSKI products stand for technologically advanced materials, modern production process and invaluable staff experience. The key ingredient of the JEZIERSKI brand are our business partners, who provide advice and assistance over a wide range of architectural projects: from standard to highly complex. We are happy to receive feedback regarding our services at our retail outlets in order to optimally adapt to the requirements of our customers.
There is no need to compromise when it comes to insulating your own home. Our windows guarantee the highest energy efficiency, thus ensuring lower heating costs.
Properties,
provided by our windows
What properties should ideal windows have? Find out more about the energy efficiency, safety, design and comfort of our windows and other products.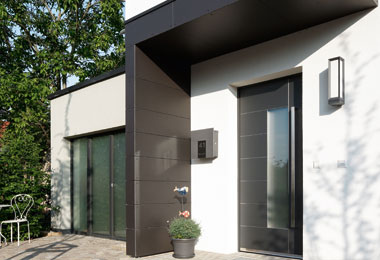 Safety, regardless
of the situation
Many intrusions can be prevented by following a policy and using appropriate security measures. Thanks to our windows and entrance doors, you can virtually eliminate the risk of burglary.