Sliding windows
Sliding systems
Glass slide doors
– Aluprof sliding systems
MB-77HS
LIFT & SLIDE DOORS
Lift & slide doors are an ideal built-in solution to connect rooms or winter gardens with the outside environment, they provide convenient exit and entry for a balcony, terrace or open garden.
The MB-77HS system is a top-range product and fulfils all the requirements for this category. It has two construction options with different thermal insulation: ST and HI.
Functionality, aesthetics, structural advantages:
robust and slim profiles for constructing low-threshold doors with leaf weights up to 400 kg, heights up to 3.2 m and widths up to 3.3 m
a wide range of fillings (with the potential use of single- or double-chamber sets) as well as thermal separators, extra accessories and insulating inserts allow to obtain excellent thermal and acoustic structural specifications
a closed shape of glazing beads and anti-burglary components can provide enhanced anti-burglary properties with no changes to essential structural door elements
special shapes of rebate and glazing gaskets and adequate fittings ensure excellent water-tightness and air-tightness through the door
a high degree of compatibility with the MB-86 system allows to aesthetically combine the MB-77HS door and windows and the application of shared components for their production, a wide range of colours, which enables doors to be arranged in any and all kinds of independent interior and exterior decor.
MB-SLIDE, MB-SLIDE ST
SLIDE DOORS
These systems are projected to make sliding doors and windows with thermal insulation, which can be built into masonry walls, aluminium facades, winter gardens or display cases made of components featuring the MB-59S or MB-59S Casement system. Sliding doors, especially large-sized variants, visually "enlarge" the living space by combining it with an outer terrace or garden.
The MB-Slide and MB-Slide ST sliding door systems offer a wide range of potential space arrangements: their maximal sash size is: H: 2600 mm, L: 1800 mm, max. weight 160 kg, there are various built-in options available: from 2 to 6 modules. Glass panel sets up to 26 mm thick can be used within. These units also ensure that excellent technical specifications are maintained: plastic thermal separators provide adequate thermal insulation of aluminium profiles, and sliding gaskets in the form of brushes or made of thermoplastic elastomer (TPE) as well as EPDM gaskets and glass gaskets enable high structural sealing.
s
SCHÜCO ASS 43 / 48
Schüco ASS 43 and ASS 48 is a thermally-insulated system of aluminium sliding doors (Aluminum Sliding System) of high quality and a wide range of applications, with their frames working smoothly with various sash variants.
Product highlights:
Anti-burglary protection to Class WK2 according to EnEV 1627
Equipped with 1- or 2-way frame, with glazing up to 32 mm thick for ASS 48 and 27 mm thick for ASS 43
Sash weight – up to 150 kg
Easily adaptable for building/room requirements
Simple locking mechanism assembly thanks to integrated catches with no drilling required
SCHÜCO SYSTEM ASS 50 – SLIDING DOORS FOR WIDE PASSAGES
The Schüco ASS 50 sliding door system is ideal for use in wide passages while minimising built-in space – when with 3 running rails, its opening width can reach 2/3 of the total width of a given component. Parallel sash sliding during opening/closing eliminates the problem of "sash overlapping" inside or outside a given unit or room.
Product highlights:
Thermally insulated aluminium profiles with high stability
Potential integration with a concealed e-slide drive
Light and noiseless operation due to the application of stainless-steel rails
Little in-sight sash profile width – from 84 mm
A range of colours can be applied inside and outside (varnished or anodised profiles)
A variety of design options thanks to compatibility with other Schüco systems
A special anti-burglary system can be fitted
Increased sound insulation due to double EPDM gaskets
Almost unlimited design options: sliding door leaves with muntin bars, stylised glazing beads or stainless steel fittings allow each and every construction to be perfectly adapted to individual customer requirements. The Schüco ASS 50 system provides ideal construction solutions for individual buildings, winter gardens as well as hotels and office buildings.
SCHÜCO SYSTEM ASS 70.HI – LIFT & SLIDE DOORS WITH INCREASED THERMAL INSULATION
Lift & slide doors made with the Schüco ASS 70.HI system fulfil the stringent requirements of energy saving standards in buildings. They easily, and almost silently, open onto balconies, terraces or winter gardens.
Product highlights:
Aluminium profiles with high stability and increased thermal insulation
Integration with a concealed e-slide drive
Various profile colours on the inside and outside
Higher operating comfort due to the new system of fittings
Smooth and almost silent operation thanks to the application of stainless-steel rails
Increased sound insulation thanks to double sealing gaskets on the perimeter of the sashes
The Schüco ASS 70.HI system offers structures with narrow profiles and large glazed areas – making it the ideal solution for catering, hotel, office and residential buildings with higher standards.
Slide doors can be made with muntin bars, stylised glazing beads and stainless steel fittings, to accurately meet individual customer expectations.
DP 150 – SLIDE DOORS AND SLIDE & LIFT DOORS
The DP 150 system is used to construct slide windows and doors for external and internal built-in. DP 150 sliding structures are designed for use in residential buildings, mainly individual and public utility buildings as well.
Within the DP 150 system it is possible to create sliding structures in various configurations and layouts. It is also possible to mount DP 150 doors in façade systems.
Suitable transition profiles allow sliding doors with top and side screens at 90 and 135 degrees to door planes.
q
Quality,
tradition, trust.
JEZIERSKI products stand for technologically advanced materials, modern production process and invaluable staff experience. The key ingredient of the JEZIERSKI brand are our business partners, who provide advice and assistance over a wide range of architectural projects: from standard to highly complex. We are happy to receive feedback regarding our services at our retail outlets in order to optimally adapt to the requirements of our customers.
There is no need to compromise when it comes to insulating your own home. Our windows guarantee the highest energy efficiency, thus ensuring lower heating costs.
Properties,
provided by our windows
What properties should ideal windows have? Find out more about the energy efficiency, safety, design and comfort of our windows and other products.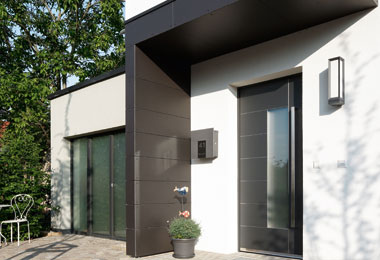 Safety, regardless
of the situation
Many intrusions can be prevented by following a policy and using appropriate security measures. Thanks to our windows and entrance doors, you can virtually eliminate the risk of burglary.